You are what you eat! Heard the saying already?
You might have.
I am in love with this saying just because of its meaning.
It simply means that the food consumed by you and your family tends to alter the thinking, behavior and way of living.
Ever thought that the food which you eat daily could have such an impact on your life?
NO?
Lemme reveal another very important thing related to food and that's the "location" where you eat i.e. The Dining Room or, as some of you may call it, The Dining Area.
Call it by whatever name but remember that the significance of this area is high in vastu shastra.
Understand; this area is important, really important!
BUT WHY?
You may ask, and here's the answer; "where you eat" ensures that the food consumed has constructive and positive effects on family members.
Imagine the outcome if food has negative and destructive influence on family members!!!
Since we are dealing with food and dining area, I suggest reading our article on kitchen vastu to know if kitchen in your home is as per vastu shastra or not.
Let's spice up the conversation some more; allow me to ask some questions to you regarding the dining room in your home.
Do you have a dedicated place in your home where you and your family eat?
If you said "YES"; then all you need to do is to read our vastu tips for dining room and verify if your "dining room/area" is as per vastu shastra or not.
If it is then CONGRATULATIONS!!!
You may like reading our article on kitchen vastu and check vastu of your kitchen) but if it's not then you can make small modifications to it and it becomes as per vastu in a jiffy.
However, if you don't have a dining room/area in your home then don't be disheartened, you can make one RIGHT NOW in your home by following our vastu tips and guidelines.
To begin with, have a good look at the image below and understand the best location for a dining room in a home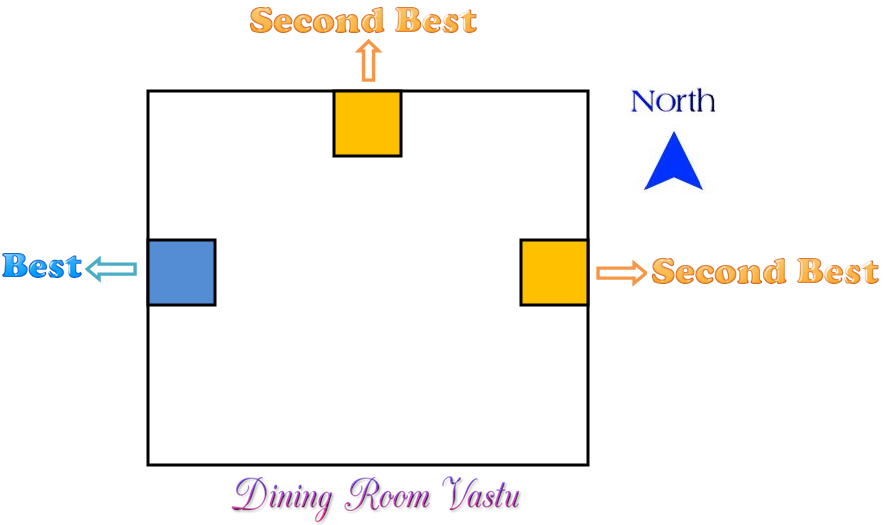 Having seen the best locations for a dining room or dining area in a home, let's take the step further and learn vastu tips for dining room.
Vastu Tips for Dining Room
Dining area in West is best, in North or East is second best.
Dining room should always be spacious, hospitable and comfy.
While dining; head of the family must face East. Rest of the family members can face East, North or West.
Children should not sit in South-West corner of dining table as this will make them to gain control of house overpower their parents.
No one from the family should face South while dining else it causes small disputes among family members.
East, North or West walls are best for doors of dining room; avoid door in South wall.
Square or rectangular dining tables are best; avoid circular, oval or any other shape as far as possible.
Place the dining table towards South-West corner of dining area, but make sure that dining table doesn't touch wall. Also keep enough space between dining chair and wall so that anyone can get up easily.
Dining table must not fold against any wall.
Do not place dining table under a beam.
Use North-East of dining area to keep drinking water.
Provide wash-basin in North or East but not in South-East or North-West.
Do not attach any toilets to dining place, but a place for washing utensils or clothes is acceptable.
Main door of the house and entrance door of dining room should not face each other.
Build kitchen and dining area on same floor.
You can keep a refrigerator in South-East corner of dining area.
If dining place is a part of drawing-room (which mostly is the case these days) then use a curtain or a plotted plant as a demarcation. Once separated, apply all dining room vastu tips to this area.
Best colors for dining room walls are pink, orange, yellow, cream or off-white.
You can hang a mirror in East or North wall of dining area.
Apart from above dining room vastu tips there are some other factors also that need attention. These factors are not related to dining area vastu shastra but they can make a family well balanced and healthy.
Other Factors for Dining Area:
Place posters or photos of mouth-watering dishes in dining area to arouse hunger.
A family, while eating, should always be relaxed, happy and stress free.
Family members must speak politely to each other while eating (of course, they should not yell at each other anywhere) they should converse respectfully at all times.
Also, while a family is talking on a dining table, they should not make fun about inadequacy of anyone. Again this applies not only to dining table but universally.
Dining table must not become a classroom of etiquette for anyone as they may lose interest in consuming food.
Play soft and subdued music in dining room.
Please avoid idiot box (TV) in dining room so that whole family spends quality time together.
Hope above vastu tips for dining room makes your life sweeter.
Related Articles to read:
Be Social. Like, Comment and Share!!!
---